Speculation he'll sign Executive Order renaming it "Father Nature"
Don't Feed The Animals,

 A Series of Satirical Musings by

Josh Lorenzo
Washington D.C. – The President, who is no stranger to early morning tweets, continued his critique of Mother Nature today, with a series of comments that has left the meteorological community reeling, and many political figures wondering as to the timing of the remarks.
The United States hasn't seen this kind of bullying on display by our President in at least an hour and a half.
It's unclear what led to the social media confrontation, but aides to the President have stated that he has become increasingly annoyed at the fluctuating temperatures that have occurred in recent months.  It is their conclusion that this fluctuation is hampering his ability to deny that climate change is real.  Compounding the issue is the fact that Mother Nature is a woman.
"He hates to lose, especially to powerful women he can't control" said one aide, speaking on condition of anonymity.  This aide overheard the President state that a man, such as Old Man Winter, wouldn't change his mind as much as Mother Nature does.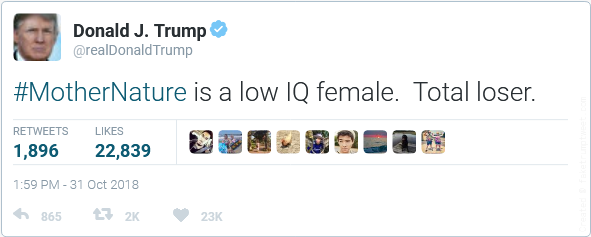 Mother Nature has yet to respond to the President's assault because she doesn't have a Twitter account, or a corporeal body that would make possible her participation in a Twitter flame war.  Meteorologists, however, have already begun vigorously defending her.
Al Roker, the well-known meteorologist on NBCs Today Show said, "A ridiculously petty Presidential tweetstorm coming up from the south, will interact with a low-pressure system off to the west.  This will eventually impact everyone with heavy shade and damaging wind gusts that are not expected to relent until the winter of 2021 at the earliest."
Democrats, as might have been expected, are expressing outrage over what they regard as the President's less-than-Presidential behavior, while Republicans, as also might have been expected, are pretending to be upset by this latest criticism of Mother Nature.  The GOP, however, are withholding any sort of actual condemnation over the President's behavior until everyone forgets it ever happened.
What is clear is that Mother Nature now finds herself firmly in the crosshairs of a President who has an unwavering focus on addressing what he considers to be the important issues facing our country.  Recently, these have included a trade war with Canada, debunking the myth that looking directly into the sun during a solar eclipse can damage your retinas, and endlessly mocking Mother Nature for being an indecisive female.
"Clearly, these are the issues the President has identified as being central to our party and that will energize our supporters to get to the polls," said longtime Senator Lindsay Graham.  "As we have no other politically-driven ideas, we are completely unified behind the President.  Mother Nature is a moron."
In an interesting bit of irony, heavy rain and snow is in the forecast for every outdoor political event the President has on his calendar for the remainder of 2018.
---
Josh Lorenzo is a part-time humor writer, featured in various places, such as McSweeney's and the Washington Post. He writes a regular satirical column, Don't Feed the Animals at Political Animal Magazine. He also has a blog at www.theauthorofsarcasm.com He lives is in suburban Maryland with his wife and two children.
---
POLITICAL ANIMAL IS AN OPEN FORUM FOR SMART AND ACCESSIBLE DISCUSSIONS OF ALL THINGS POLITICAL. WHEREVER YOUR BELIEFS LIE ON THE POLITICAL SPECTRUM, THERE IS A PLACE FOR YOU HERE. OUR COMMITMENT IS TO QUALITY, NOT PARTY, AND WE INVITE ALL POLITICAL ANIMALS TO SEIZE THEIR VOICE WITH US.
THINK. DISCUSS. DEFEND. FREELY.